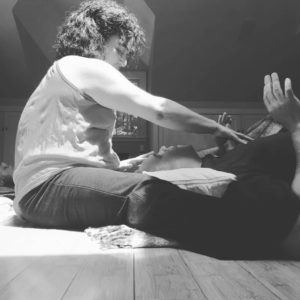 "Joy is a return to the deep harmony of body, mind, and spirit that was yours at birth and that can be yours again. That openness to love, that capacity for wholeness with the world around you, is still within you." ~ Deepak Chopra
Breathwork is an active, body-centered meditation that is a highly effective method for accessing the core essence of yourself that innately knows how to heal, feel joy, and move in life-affirming ways given any challenge or opportunity.
Some outcomes of doing a breathwork practice include:
Deep embodied peace, love, gratitude, self-love
Growing awareness of the conditioning or unconscious drivers that have created mental, physical, emotional blocks and pathways to release them
Relief and/or resolution of pain, anxiety, trauma or stress patterns
Increased capacity to regulate nervous system
Profound inner clarity, inspiration, direction, motivation, vitality, openness
Alignment and clearing of energy body
Deeper, more expansive states of consciousness
Revelatory experience
Connection to core inner healing and soul wisdom and their practical applications to your life
In all, this is a deep integration of body-mind-heart-spirit experience that can heal and transform your life from the inside, out. Participants are supported with a trauma-sensitive and empathic approach.

Breathwork is
Integrative
Restorative
Transformative
In this breathwork group, we will circle, engage in gentle meditative movement to tone the nervous system, and then enter the breath.
Learn more about my approach…
---
Join me for this breathwork journey in the beautiful sanctuary that is Rooted in Flow on the fourth Saturday of the month, 12:00-2:30p. (one: July is  on the 5th Saturday.)
As a recommendation for supporting your comfort, please wear comfortable, loose clothing, and bring a yoga mat, water, blanket and pillow(s).
Please contact me with any questions related to breathwork and your healing journey. Call or text 207-200-SOUL.
---
Register:
If you are a member at Rooted in Flow, take advantage of your member rate by registering in studio (or becoming a member) at Rooted in Flow!
$45
Look forward to breathing with you at Rooted in Flow!